CE Mass spectrometry
Put Your MASS Into It
Get way more done, in way less time with even less hassle.
Kick your mass spec into overdrive. Pop ZipChip on your mass spec as the source. It separates your samples and electrosprays them into your mass spec for analysis. All in as little as 1 minute. Limited on sample or got a tough matrix? Bring 'em on. ZipChip doesn't even flinch at matrices with detergents or salt, making it the ideal solution for biopharma samples. ZipChip CE-Mass spectrometry is the perfect orthogonal alternative to LC/MS.
Trusted by BioPharma​
Listen to how scientists have put REBEL and ZipChip to use in speeding up their research.
ZipChip seamlessly collaborates with other devices.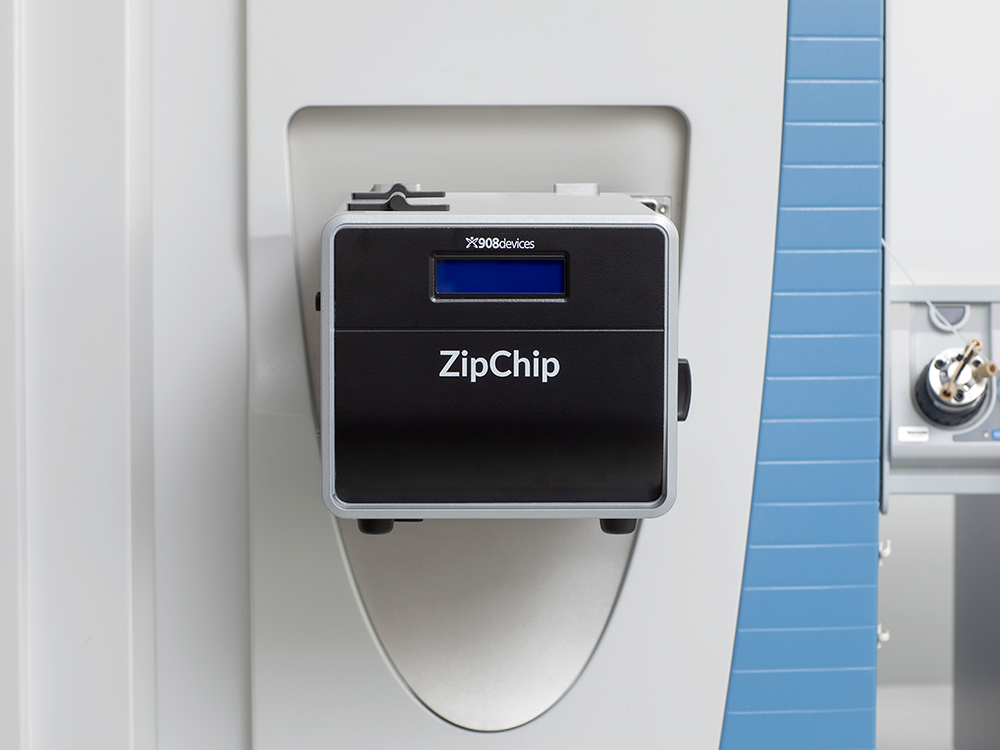 ZipChip's Got You Covered
Biotherapeutic proteins straight from a bioreactor? No problem. Peptide mapping? Check. Small molecules in biofluids? Yep, those too! ZipChip handles a wide range of sample types with minimal sample prep and super-fast analysis times. So go ahead and kick those lengthy workflows to the curb.
No Time Wasted
Think messing around with fittings and optimizing electrospray is an annoying waste of time? It IS. Not to mention a huge source of variability. ZipChip's easy to set up. Once you click the chip in place, it's automatically positioned for optimal electrospray. No fittings to connect and no optimization. You're up and running in a few minutes
Get Straight to it.
ZipChip consumables take the guesswork out of method development. Assay kits come with background electrolyte and sample diluent that's optimized for each application. Just put the bottle of background electrolyte in the autosampler, prep your samples with the sample diluent and you're off!
How to Find Your Assay & Consumables Kit:
---
Pick a BGE Kit
Then a Chip
How Will You Use ZipChip?
Blast Through Data Analysis
Analyze multiple CQAs in minutes with ZipChip + Darwin. Our dedicated analysis software uses the rich information from both the ZipChip capillary electrophoresis and mass spec domains. That means you skip all the manual steps typically needed for biotherapeutic analysis.
Customer Support Portal
The My 908 portal gives scientists quick access to important resources like the latest software upgrades, product guides, and training materials.
Frequently Asked Questions
Can the ZipChip interface to any mass spec?
Almost – the ZipChip currently interfaces to Thermo (Orbitrap Exactive and Q Exactive Series, Fusion Lumos Tribrid,Exploris 480, Eclipse Tribrid LTQ, Orbitrap Elite Series, TSQ2 Series Triple Quads), Sciex (TripleTOF 6600+, 6600, 5600, Triple Quad/QTrap 6500+, 6500, 5500+, 5500, 4500) and Bruker (timsTOF/timsTOF Pro, maXis QTOF, impact QTOF, compact QTOF) mass specs. If you don't see your mass spec listed, reach out to us.
Can the ZipChip be used to analyze small and large molecules?
The beauty of the ZipChip is that you can perform large molecule (e.g., mAb's) analysis in the morning and transition to small molecule (e.g., amino acids) analysis in the afternoon. It's that fuss-free! There is no need to change mobile phases or columns to accommodate a new project.
What is sample prep like?
ZipChip is extremely sample matrix tolerant. Most formulation buffers – even those containing salts or detergent – are compatible with ZipChip analysis. In many cases, we simply dilute and shoot.
How does the ZipChip interface and control the MS acquisitions?
The ZipChip is a plug-and-play device, so just remove the ESI source and attach the ZipChip! No alignment or adjustments are required. The ZipChip will start your mass spec at the right time, just like a chromatography station would do. The data acquisition is performed by your existing mass spec software, so data processing is simple.
email Subscribe to Our Communications Signup to receive new product updates, technical tips and more.